LandPress (2016-2020)
Effects of climate and land-use change on biodiversity and natural resources in Norwegian coastal heathlands
Cessation or reduction of agricultural land-use leads to overgrowth and loss of habitats, biodiversity, ecosystem functions and services. Such changes affect a variety of habitats, many of which are now classified as threatened across Norway and Europe. When overgrowth occurs in combination with climate change, problems accentuate. Extreme weather, in the form of droughts, in combination with overgrowth increases landscape fire risk. Uncontrolled wildfires constitute a societal cost, both in terms of firefighting, replacement of lost values, and security. Active agriculture can therefore have social value, beyond food production, through producing ecosystem services such as reduced wildfire risk.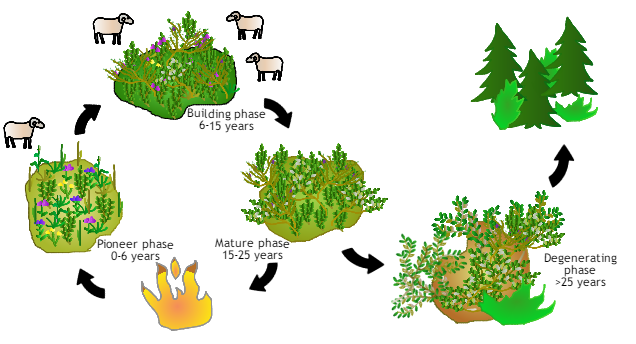 In 2014 an intense winter drought led to massive heather death along the Norwegian coast. LandPress uses this "natural experiment" in observational studies and field experiments to test whether heather burning is an effective measure to prevent drought damage and restore damaged moorland. In a broader context, we will look at how agricultural produce ecosystem services for the benefit of society, with particular emphasis on reduced wildfire risk. LandPress participates in the International Drought Experiment collaboration to put our findings into a wider geographic and habitat context. LandPress will provide new knowledge-based land-use advice, which in turn will help reduce the likelihood of uncontrolled fires in the coastal landscape under changing climate.
We ai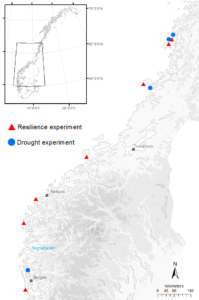 m to:
Establish relationships between Calluna dieback and variation in land use, environmental and climatic conditions locally and along a biogeographic gradient.
Understand and experimentally assess the impacts of severe drought events on coastal heathland ecosystem dynamics and functioning.
Experimentally assess whether prescribed burning can be used to promote Calluna's resilience after severe drought and how this varies along biogeographic gradients.
Understand the contribution of land management to the provision of ecosystem services, with a focus on securing low fire-risk landscapes.
Develop knowledge-based management strategies to conserve heathlands, secure ecosystem service provisioning, and reduce fire risks under future climate conditions.